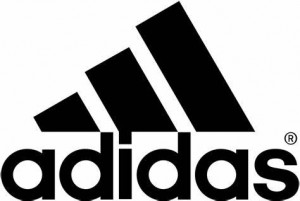 The fitness gala, 2020 the 7th China (Shanghai) Int'l Health, Wellness, Fitness Expo (Short for: IWF SHANGHAI Fitness Expo) has been held during 3rd - 5th July. Influenced by CoVid-19, there are both chance and challenge in fitness industry. The aim of IWF SHANGHAI Fitness Expo is to find a breaking way to integrate resources and accumulate brand value. Adidas attended IWF SHANGHAI Fitness Expo with new core products like treadmills T-19X and T-19I etc., bringing a smarter and more exciting fitness experience.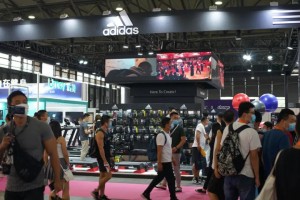 Besides smart fitness equipment, like treadmills, elliptical and spinning bikes etc., Adidas also exhibited overturning YOGA series, ClimaCool Recovery and all kinds of combined equipment and accessories.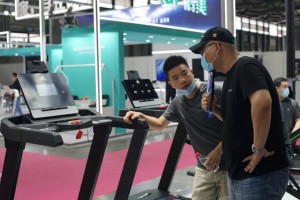 Interaction Makes You Enjoy Modern Sports Lifestyle
The Adidas booth keeps black in pure as brand tone, with steel structure and technological multiply 3D screens, to show a fantasy style of retro and future. There are over 300 products for Adidas aerobic, yoga, anaerobic, training and recovery etc. It was a face-to-face touch with buyers. By the way, Adidas also invited senior Yoga trainer to IWF SHANGHAI Fitness Expo, setting interacting experience area and yoga exercising area for you to enjoy Adidas sports lifestyle.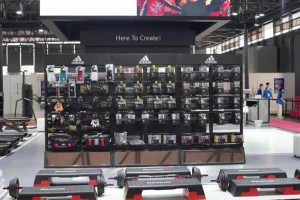 Broaden Retail Channels, Increasing Brand Influence in China
Although Adidas Fitness is famous in America and Europe, most Chinese users only know sports apparel and sneakers for Adidas and have little idea of fitness. Adidas Fitness has entered Chinese marketing last year for basically building both online and offline retailing network. Adidas Fitness will optimize brand retail this year, to increase local popularity and influence. There's a business tea break in the booth for distributors and agents to communicate.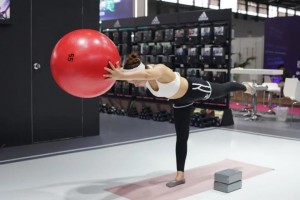 Core NRG Cushioning Technology, Producing New Light Commercial Treadmill
Smart treadmills in IWF SHANGHAI Fitness Expo, T-19, T-19X and T19-I are light commercial treadmills. They're better than home treadmill on both motor and belt width. The silent equipment is more suitable for private circumstances. The color are in black, white and red for home and industrial design, expressing distinctive brand fashion.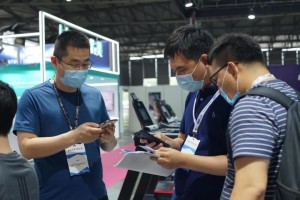 The treadmills take Adidas latest cushioning technology, NRG. Designed for progressive home cardio, NRG cushioning technology minimizes wear at the joints, soaking up each and every strike to support workouts. The UltraX console creates motivating and tailored runs for all abilities. Displaying performance metrics and are living heart rate stats, the touchscreen display boosts  run for effective cardio sessions. Web enabled, the UltraX console features apps including Netflix, Facebook and YouTube, keeping users entertained while training with 5W speakers to power run. The touchscreen console also offers Virtual Active running with 3 simulated scenic routes.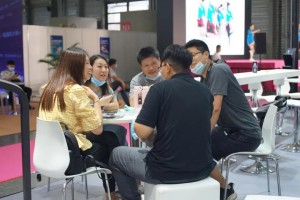 IWF SHANGHAI Fitness Expo:
6-8 April, 2021
Shanghai New International Expo Center
http://www.ciwf.com.cn/en/
#iwf #iwf2020 #iwf2021 #iwfshanghai
#fitness #fitnessexpo #fitnessexhibition #fitnesstradeshow
#ExhibitorsofIWF #Adidas #AdidasFitness
#FitnessEquipment #T19 #T19X #T19I
#Treadmill #Bike #SpinningBike #Spinning #Strength
#Dumbbell #Kettlebell #Barbell #Medicineball
#Accessory #Apparel #Sneakers #ClimaCool #Recovery
#Performance #Originals #NEO
#Ultraboost #Boost #Superstar #StanSmith #NMD #Ozweego
#Continental #Alphabounce #Bounce #Campus #EQT #Equipment #ZX
#OEM #ODM #OBM #Manufacturer #Factory
#China #Shanghai #German #Deutschland
#matchmaking #pair #OnlineExhibition #B2B #B2C
---
Post time: Sep-10-2020